Martin R.
Responds within 15 hrs, to 100% of messages
Martin R.
Accepts new students
Angličtina online
Preferred times:
mornings, midday, evenings, weekend
Description
Nabízím přípravu do práce, do školy, k jazykovým zkouškám a pro cestování. Jsem držitelem mezinárodních certifikátů z všeobecné, obchodní a právnické angličtiny: PET,FCE,CAE,CPE (C2), BEC Higher (C1) a ILEC (C1).

Patřím mezi učitele, které baví posouvat možnosti online výuky, tak aby to nebyla jen náhražka běžného studia, ale plně rozvinutá a zároveň uživatelsky jednoduchá cesta k ovládnutí angličtiny.

Během hodin pomáhám studentům s rozvojem všech jazykových dovedností. Mám k tomu přehledné interaktivní prezentace a webové aplikace, které navozují příjemnou atmosféru a zvyšují efektivitu práce. Po každé hodině posílám studentům emailem na míru připravená probraná témata a slovíčka k zopakování formou online cvičení + přípravu na příště, na kterou pak při hodinách navazujeme pro rychlejší a intezivnější postup.

Výuka angličtiny probíhá, kdekoliv k tomu má každý student příhodné podmínky - v pohodlí domova, v kanceláři či v zasedací místnosti.

Lekce si studenti rezervují kliknutím myši v mém online rezervačním kalendáři. Každý týden si mohou snadno zamluvit stejné či jiné dny a časy podle svých aktuálních možností a plánů. K audiovizuální komunikaci používáme počítač, notebook, tablet či telefon.

Tato forma studia je vynikající přípravou na zvládnutí nejrůznějších situací v anglickém jazyce: například zahraniční cesty, telefonování, jednání, zkoušky (včetně mezinárodních certifikátů, přijímaček a maturity), ke komunikaci s klienty či dodavateli, jakož i pro účast na seminářích a školeních.

Výuka dvou studentů
Moje obvyklá cena je 400Kč/60minut. Někteří moji studenti ale platí jen 250Kč, protože jim vyhovuje studium ve dvou, kde si celkovou cenu za tandemovou hodinu (500Kč) dělí na půl. Sám jsem se angličtinu učil také v tandemu: s mojí kamarádkou Evou - a naše lektorka nás takto ve dvojici dovedla až k nejvyššímu certifikátu C2 (CPE). Pokud víte o někom, kdo je na podobné jazykové úrovni jako Vy a má podobný cíl, tak by mohlo být zajímavé společné hodiny zkusit. (Oba studenti mohou mít se mnou společnou hodinu ideálně každý ze svého domova, protože každý student má ode mne vlastní studijní podklady a prostředí.)



Veronika V.
Unverified reference
Martinovu výuku mohu vřele doporučit všem rodičům žáků na základní škole (ale i dospělým 😉). Synovi jsme hodiny navíc zvolili poté, co vidím nedostatek praktického procvičení a zažití látky na ZŠ a též přípravu na testy z gymnázia. Opravdu ve velmi krátké době byl syn schopen tvořit krásné rozvité věty, začal správně používat gramatiku, osvojil si znalost tolika nových slovíček, až je to překvapivé. Své znalosti si mohl ihned ověřit v konverzaci s Francouzem a Američankou - oba velmi chválili jeho zlepšení. Pro mě důležité - neostýchal se hovořit a sám, bez mé pomoci, se domluvil 👍😊 Martin umí připravit hodinu a výuku přesně na tělo každému člověku. Má velkou zásobu různých cvičení. Hodina je živá, aktivní a zábavná. Co se týká času - Martin je velmi flexibilní, mě se velmi líbí jeho systém rezervace termínů online. Stejné úsilí jaké věnuje dětem, dává i do zhodnocení v e-m. Komunikace na jedničku⭐ Škoda, že není více takových nadšených učitelů na ZŠ, učení by byla zábava i hra!
Markéta V.
Unverified reference
I had to start studying English to pass the FCE exam, which was mandatory for my further university studies. Choosing Martin for help was an absolutely great decision. Not only did I pass the exam in a few months, but above all, I have learned to like this language so much that using English became a part of my everyday life: in books, in films, or in my own thoughts. I will always remember Martin, and be grateful to him for his support in my studies and for helping me to find interest in this language. He is an excellent teacher and it is remarkable how he does his job with so much love. One is sometimes literally amazed by his patience. He will offer and show you a way to approach English according to your specific needs and goals. During his classes, you can easily forget that you are studying, because you have plenty of fun all the time. Thanks to him, your studies will become a hobby, which you will not want to leave, and therefore I must highly recommend Martin to everyone who really appreciates such an approach, the same way as me.
Martina P.
Unverified reference
Martin is an amazing teacher. He prepared me for my B2 exam. Thanks to his unique materials and effective teaching techniques, I managed to get the C1 directly. I would recommend his service to anyone who wants to pass an English certificate exam or just improve his English skills.
Tutor's answer:
Thanks a lot for the positive feedback. I am glad that after another year of our cooperation you managed to pass another exam: BEC Higher. Congratulations! :o) Now you have both general and business English at C1 level.
pictures and certificates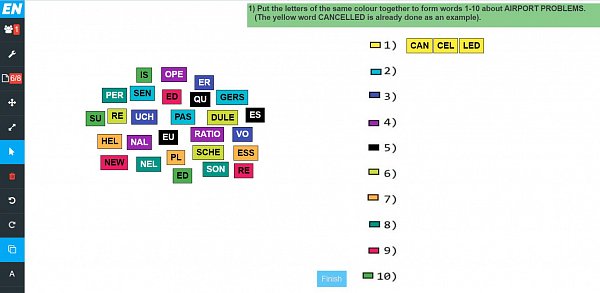 Blogs
(4)
Mí tři králové zdvojených pismen (v angličtině)
Anglická slova mívají relativně často jedno, někdy dokonce dvě písmena zdvojená. Například: "happy, summer, winner, thrilling, success..." Ovlivňuje to výslovnost těchto slov.Existují ale i…